The Project
In the Project Industrial Communication for Factories we develop secure, robust and real-time capable communication solutions for the manufacturing industry. By the middle of 2020 15 project partners in the areas of industry and research work out a technology toolbox for a reliable industrial communication and computing infrastructure. The toolbox is based on an open and not domain-specific architecture and expandable by further applications and communication technologies. Key technologies from the fields of 5G, Multi-Access-Edge-Computing (MEC), Cloud Computing, Virtualization, as well as Industrial Monitoring and Analytics are used to achieve the goals. The toolbox should enable users to select the right ICT technologies for their Industry 4.0 requirements and migration approaches.
The Consortium
Research Partners
Fraunhofer-Gesellschaft zur Förderung der angewandten Forschung e.V.
Technische Universität Berlin
Technische Universität Kaiserslautern
University of Stuttgart


Institute for Parallel and Distributed Systems
Institut of Architectur of Application Systemes
Industry Partners
Robert Bosch GmbH
Deutsche Telekom AG
Gesellschaft für Produktionssysteme GmbH
brown-iposs GmbH
MAG IAS GmbH
Nokia Solutions and Networks GmbH & Co KG
Alcatel-Lucent Deutschland AG
rt-solutions.de GmbH
Schindler Fenster + Fassaden GmbH
Siemens AG
Contact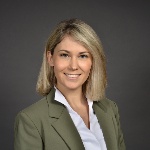 Karoline Wild
Dr. rer. nat.
Lead of Research Area Architectures and Middleware, Research Associate